| | | |
| --- | --- | --- |
| Could you drop out of your life? | | |
Could you drop out of your life?
Many of us dream of dropping out of our lives to find something we can't completely name. But what would taking time off from work and family really look like? And what might you find?
| | | |
| --- | --- | --- |
| Happy Workers, Richer Companies? | | |
Happy Workers, Richer Companies?
Businesses with perks like free lunch clearly outperform competitors in the stock market.
By Derek Thompson
You can hear it in the game rooms of Google's Chelsea office, smell it from the ice cream shops on Facebook's Menlo Park campus, and see it with yoga mats aligned on the rooftop of OpenDNS: We are living in an Age of Peak Perk. (Some of us, anyway).
While it's reasonable to consider benefits like free rental cars and dry-cleaning somewhat extreme, there might be a method to perk-madness.
In a 2012 paper, Wharton's Alex Edmans showed that, controlling for factors like industry, firms listed in "100 Best Companies to Work For in America" have outperformed their peers in annual stock market growth by up to 3.8% since 1984. To make sure causality wasn't running the wrong way —i.e.: great stock performance making workers happy—Edmans restricted his study to future returns (e.g.: "by relating satisfaction in December 2001 to stock returns in 2002").
This finding carries an interesting suggestion. Maybe these companies aren't being too generous. Instead, perhaps less indulgent firms are punishing their shareholders by withholding their workers' Essential American Right to free quinoa salad.
| | | |
| --- | --- | --- |
| President Obama's competence problem is worse than it looks | | |
President Obama's competence problem is worse than it looks
By Chris Cillizza
You can understand President Obama's current political problems -- and how those problems could make things very tough for his party in this fall's midterm election -- in a single word. And that word is "competence".
Obama was elected in 2008 on a stated promise that he would restore competence to government. He pitched himself as the antidote to "Heck of a job, Brownie" and the Bush years, the person who would always put the most qualified candidate in every job in his Administration. That the basic functioning of government would never be in question.
Almost six years on from that election, however, Obama is faltering badly on the competence question and, in so doing, badly imperiling not only his ability to enact any sort of second term agenda but also Democrats' chances this fall. A series of events -- from the VA scandal to the ongoing border crisis to the situation in Ukraine to the NSA spying program -- have badly undermined the idea that Obama can effectively manage the government.
The latest evidence is a question in a CNN/Opinion Research Corporation poll released Sunday that asks whether the phrase "can manage the government effectively" applies to Obama. Just more than four in ten (42 percent) said that it does while 57 percent said it does not. (It was the lowest that Obama scored on any of the six characteristic questions CNN asked in the survey.)
Obama's trajectory on the question is all to the bad for Democrats. Back in December 2009, more than three quarters of respondents in a CNN/ORC poll said that Obama was an effective manager of the government. By early November 2009 that number had dropped to 58 percent. It dipped below 50 percent for the first time in June 2010 and in the three polls in which CNN has asked the question since mid-November 2013, 40 percent, 43 percent and now 42 percent, respectively, have said that he is a good manager.
| | | |
| --- | --- | --- |
| Serial Killer Myth #2: They're Dysfunctional Loners | | |
Serial Killer Myth #2: They're Dysfunctional Loners
Serial killers are rarely reclusive, social misfits who live alone, despite pervasive depictions of them as such in the news and entertainment media. Disturbingly, serial killers are often married, gainfully employed and live normal looking lives in our very midst.
| | | |
| --- | --- | --- |
| Europe and U.S. to Sharply Escalate Russia Sanctions | | |
Europe and U.S. to Sharply Escalate Russia Sanctions
A package targeting Russia's financial, energy and defense sector was driven by the conclusion that Moscow has taken a more direct role in Ukraine.
After months in which European leaders were hesitant to go as far as the Americans, the two sides settled on a package of measures that would target Russia's financial, energy and defense sectors. In some cases, the Europeans may actually leapfrog beyond what the United States has done, forcing Washington to try to catch up.
The agreement came during an unusual five-way video conference between President Obama and his counterparts from Britain, France, Germany and Italy in advance of a European Union meeting scheduled for Tuesday to consider new sanctions against Russia. American and European officials said the leaders agreed that Russia has not only not backed down since the shooting of a Malaysia Airlines passenger jet but has also accelerated its involvement in Ukraine's burgeoning civil war.
"They agreed on the importance of coordinated sanctions measures on Russia for its continued transfer of arms, equipment and fighters in eastern Ukraine, including since the crash, and to press Russia to end its efforts to destabilize the country and instead choose a diplomatic path to resolving the crisis," Antony J. Blinken, Mr. Obama's deputy national security adviser, told reporters.
President François Hollande of France released a statement from his office saying that the leaders confirmed their intention to adopt new sanctions, and the office of Prime Minister David Cameron of Britain said it should be "a strong package of sectoral sanctions" adopted "as swiftly as possible."
The steps risk direct harm to European interest, by curbing business with Russia and courting countersanctions from Moscow. But in contrast to previous debate this year over how aggressively to confront President Vladimir V. Putin over Russia's intervention in Ukraine, political and business leaders in Germany — the crucial player in determining Europe's response — now appear united behind the need to take more stringent action.
Several prominent German business leaders indicated in recent days that they supported tougher sanctions or were at least resigned to them, giving Chancellor Angela Merkel more political leeway at home to back what is expected to be the most far-reaching response yet by Europe to Russia's behavior in Ukraine.
"In light of the most recent escalation, new sanctions are unavoidable," Hannes Hesse, executive director of the German Engineering Federation, which represents makers of machinery and heavy equipment, said in a statement.
| | | |
| --- | --- | --- |
| America has grown faster under Democratic presidents than Republicans? | | |
Presidents Still Don't Control the Economy
America has grown faster under Democratic presidents than Republicans. What does that say?
By Derek Thompson
For years, Americans have listed the economy as their "most important problem," and it seems like countless elections have swung on candidates' sugar-coated promises to accelerate growth, create jobs, and generally make us all as rich as we've dreamed. But just how much power does the president really have over the economy, in the first place?
In a new update to a fantastically interesting paper, Princeton professors Alan Blinder and Mark Watson offer an answer that says, essentially, they have much less power than you think.
The juiciest discovery from the paper is that in the last 70 years, the US economy has been better, across many metrics, when a Democrat has been the president.
Why is the US economy so unapologetically partisan? Do the laws of supply and demand have a liberal bias? Are Democrats better at governing for growth? Do these graphs prove something fundamental about the superiority of Keynesianism?
Maybe none of the above. Blinder and Watson propose that the answer has less to do with policies—taxing, spending, redistributing—and more to do with dumb luck. "The Democratic edge stems mainly from more benign oil shocks, superior [productivity growth], a more favorable international environment, and perhaps more optimistic consumer expectations about the near-term future," they wrote.
As Jordan Weissmann and Brad Plumer both observed in analyses of previous drafts of this paper, some factors that Blinder and Watson file under "luck" might not be entirely outside of the president's control. Oil shocks, for example, are kryptonite for growth. But both Iraq wars, started by Republicans, coincided with oil spikes. It seems fair to point out that oil prices are a barometer of global supply and demand, not just the state of war in Iraq. But it's a telling example of how broader economic forces aren't entirely separate from U.S. policy.
| | | |
| --- | --- | --- |
| Israel Creates 'No Man's Land' in Gaza, Shrinking Strip by 40% | | |
Israel Creates 'No Man's Land' in Gaza, Shrinking Strip by 40%
Jesse Rosenfeld
To protect itself from Hamas rockets and tunnels, Israel is forcing tens of thousands of people out of their homes, turning their old neighborhoods into a no-man's land.
This narrow strip of land that used to be called "the Gaza Strip," already one of the more densely populated places on earth, is growing dramatically smaller. The Israeli military, relentlessly and methodically, is driving people out of the three-kilometer (1.8 mile) buffer zone it says it needs to protect against Hamas rockets and tunnels. According to the United Nations Office for the Coordination of Humanitarian Affairs, the buffer zone eats up about 44 percent of Gaza's territory.
What that means on the ground is scenes of extraordinary devastation in places like the Al Shajaya district approaching Gaza's eastern frontier, and Beit Hanoun in the north. These were crowded neighborhoods less than three weeks ago. Now they have been literally depopulated, the residents joining more than 160,000 internally displaced people in refuges and makeshift shelters. Apartment blocks are fields of rubble, and as I move through this hostile landscape the phrase that keeps ringing in my head is "scorched earth."
It's not like Israel didn't plan this. It told tens of thousands of Palestinians to flee so its air force, artillery and tanks could create this uninhabitable no-man's land of half standing, burned-out buildings, broken concrete and twisted metal. During a brief humanitarian ceasefire some Gazans were able to come back to get their first glimpse of the destruction this war has brought to their communities, and to sift through their demolished homes to gather clothes or other scattered bits of their past lives. But many were not even able to do that.
| | | |
| --- | --- | --- |
| The Allure and Destruction of Fatal Attraction | | |
The Allure and Destruction of Fatal Attraction
Many personality traits can be attractive at first, but then become precisely the thing that will drive us up the wall in the long run. WSJ 'Bonds' columnist Elizabeth Bernstein explains why on Lunch Break with Tanya Rivero.
| | | |
| --- | --- | --- |
| The real reason French women have stopped sunbathing topless | | |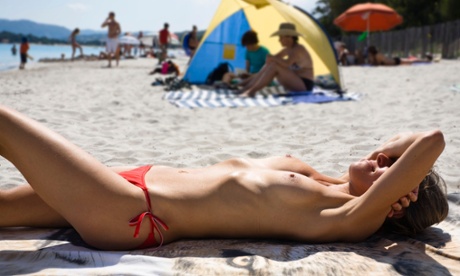 The real reason French women have stopped sunbathing topless
According to French Elle, women have stopped sunbathing topless in France. Two French women reveal why they do, and don't, and how little it has to do with health scares
Is topless sunbathing over? It certainly is in France, according to French Elle, if the coverline on its new summer issue is to be believed: "La Fin Du Topless Sur La Plage?" – which translates, verbatim, to "Is this the end of toplessness on the beach?"
According to the magazine the answer is "yes", and the reasons are threefold. First, an increased concern over health and the dangers of skin cancer; second, the "pornified" perception of topless women (indeed Elle suggests the death of the monokini – ie swimming briefs – was linked to the idea that topless women are seen as "loose"); and third, the rise of breast-affiliated activism – chiefly Femen, who use their naked breasts as a means of attracting attention to various causes, and Free the Nipple, a recent campaign that encourages women to go topless to end the stigma surrounding female bodies. "Topless sunbathing was seen by women as a new freedom in St Tropez in the 1960s," says Elle. And now that they're covering up? It's a "worrying sign of a regression in the place of women".
Ever since Brigitte Bardot took off her top on the French Riviera in the 1960s, the correlation between topless sunbathing and women's liberation has been entrenched in French culture as a sign of true equality. Many others followed suit and the breast and beach were reclaimed. News that so few women are now going topless (just 2% of women under 35 said they did) seems extraordinary – and depressing.
But, according to two French women, it's more than a fear of skin cancer and political activism that has kept them covered up.
Alice Pfeiffer, an Anglo-French journalist in her 30s (who, incidentally does sunbathe topless in Biarritz, Guéthary, Monaco and surfing resort Hossegor), thinks the decline is inextricably linked to social media: "Young women in their 20s do it less because they are aware that ... you can end up topless on your own Facebook wall."
| | | |
| --- | --- | --- |
| Rock Bottom Is a Good Starting Point | | |
Rock Bottom Is a Good Starting Point
We are often at our best after our biggest failures. There is a need to move on, do things differently, better.
<< Start
< Prev
1
2
3
4
5
6
7
8
9
10
Next >
End >>
Results 1 - 10 of 26871
---