| | | |
| --- | --- | --- |
| Dreamers heckle Clinton in Maryland | | |
Dreamers heckle Clinton in Maryland
By MAGGIE HABERMAN
COLLEGE PARK, Md. — Hillary Clinton was heckled repeatedly during a rally Thursday in potential 2016 rival Martin O'Malley's home state of Maryland, when more than a dozen pro-immigrant activists staggered their protests so they lasted throughout most of her speech.
The rolling protests by members of the group United We Dream came during a rally at the University of Maryland for Democratic gubernatorial hopeful Lt. Gov. Anthony Brown. They also came nearly a week after so-called Dreamers interrupted Clinton's speech in North Carolina, where she was campaigning for Sen. Kay Hagan; the activists reportedly said they were mishandled by officials at that rally when they were being led out.
| | | |
| --- | --- | --- |
| I don't want my kid to marry a Republican | | |
Confessions of a 'Partyist': Yes, I Judge Your Politics
By Jonathan Chait
How would you feel if your child married a supporter of the opposing party? I'll admit it: I wouldn't like it very much. Partisan affinity is not the only, or even the most important, quality in my children's prospective future mates. I would certainly prefer a kind, well-adjusted Republican over an angry, emotionally unstable Democrat. Still, all things being equal, I'd rather not greet my child's future spouse with a copy of Bill O'Reilly's latest tucked under his or her arm. Does that make me a bigot?
Cass Sunstein and David Brooks seem to believe it does. Indeed, in keeping with our culture's addiction to grievance, they have taken up a new term to express their disapproval of my preferences: "partyism." This new term of art transforms the act of judging a person's political beliefs into a kind of prejudice, and therefore to render it disreputable. "The destructive power of partyism," laments
Sunstein
, "is extending well beyond politics into people's behavior in daily life."
Brooks
goes even further. "
To judge human beings on political labels is to deny and ignore what is most important about them," he argues. "It is to profoundly devalue them. That is the core sin of prejudice, whether it is racism or partyism.
Brooks and Sunstein (who published his column a month ago) both cite the same two pieces of social-science research. The first is a study by Shanto Iyengar and Sean J. Westwood that found that respondents to various psychological tests display deep, implicit distrust for members of the opposing party. The second is a 2010 poll finding that 49 percent of Republicans, and 33 percent of Democrats would feel "displeased" if their child married a supporter of the opposite party, up from 5 percent and 4 percent in 1960.
| | | |
| --- | --- | --- |
| Jennifer Lawrence and What It Means to Be Hollywood's Top Female Star | | |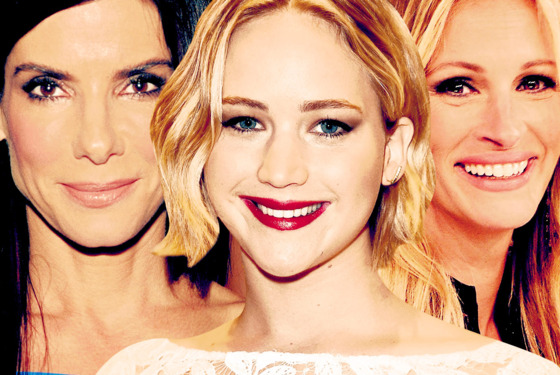 Jennifer Lawrence and What It Means to Be Hollywood's Top Female Star
By Bilge Ebiri
As we revealed on Monday, Jennifer Lawrence topped Vulture's Most Valuable Stars List this year, and although we only started compiling these lists in 2012, the fact that a woman has topped it for the first time this year seems like cause for rejoicing. How often has an actress been perceived as the biggest star in Hollywood? Not that often. Look to a more established metric: The Quigley Publishing Co. has been publishing its Motion Picture Exhibitors' Poll of the Top 10 Box-Office Draws since the early 1930s. Since 1967, a woman has topped it only three times — Lawrence in its most recent poll, Sandra Bullock in 2009, and Julia Roberts in 1999. That's a lot of dudes.
Of course, once upon a time, actresses were typically bigger ticket-sellers than men: In the 1930s, Shirley Temple regularly topped the Quigley poll, while Julie Andrews and Doris Day pretty much split the 1960s between themselves. But that was a different Hollywood, one driven for decades by female moviegoers. Today's movie industry is slowly (sloowly) starting to rediscover the power of the female viewer, and several stars still in their prime could be positioned to take advantage of it, from relative newcomers like Shailene Woodley, Emma Stone, Melissa McCarthy, and a Star Wars–bound Lupita Nyong'o, to relative veterans like Scarlett Johansson, Angelina Jolie, Zoe Saldana, and Anne Hathaway (not to mention Bullock and Lawrence themselves).
Not all of those actress will be No. 1 someday, but I wouldn't be surprised if a couple of them made it to the top spot in the coming years. But for now, Lawrence rules the land, and she has earned it, through sheer talent and some smart choices. The film industry today is increasingly divided into two kinds of movies: blockbusters and awards bait (or, as filmmakers like to call them, "passion projects"). At the age of 24, Lawrence has mastered both. She already has three Oscar nominations and one win under her belt. She's also the lead of one of the world's biggest action franchises (The Hunger Games) and a major player in another (X-Men). Meanwhile, her more serious movies make money, too: Last year's American Hustle was a huge hit, as was Silver Linings Playbook the year before it.
As an actress, Lawrence's versatility is astounding. Remember that her first Oscar nomination came for the gritty, Ozarks-set indie drama Winter's Bone, in which she brought to the part of a troubled rural Missouri teen a desperate, survivalist drive as well as a real sense of fear and danger. I still remember the electricity around that performance at the film's Sundance premiere. She virtually carried the entire movie on her back; you sensed that this was not only an actress of incredible skill, but great intuition. When I interviewed Winter's Bone director Debra Granik a few weeks ago, she recalled how Lawrence was deeply intimidated by the far more Method style of co-star John Hawkes, and that the actress chose to use that to feed her own performance. She was just 18 years old at the time of filming.
| | | |
| --- | --- | --- |
| Suspected cop-killer Frein taken into custody | | |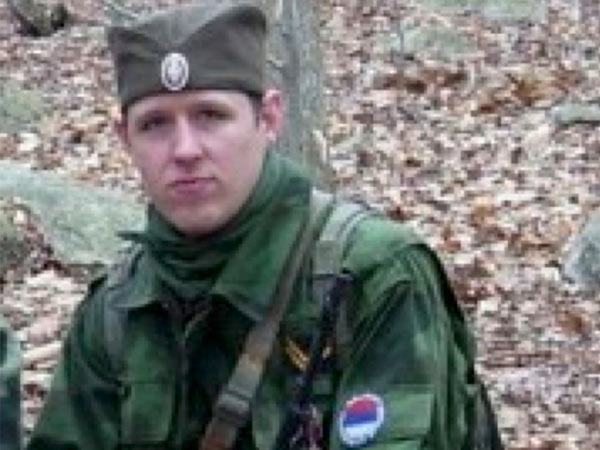 Suspected cop-killer Frein taken into custody
Eric Frein, the suspected cop-killer who for six weeks has been the target of a Poconos manhunt involving more than 1,000 law-enforcement officers, surrendered Thursday without incident, officials said.
Frein, accused of killing one trooper and wounding a second, was captured north of Tannersville in the Poconos region, said Edward Hanko, special agent in charge of the Philadelphia division of the FBI. He was unarmed and no shots were fired as he was taken into custody, Hanko said.
State Police spokeswoman Trooper Connie Devens confirmed that Frein was in custody, but said no further information would be released at this time.
The self-described survivalist allegedly killed State Police Cpl. Bryon Dickson and wounded Trooper Alex Douglass in an ambush attack outside the state police barracks in Blooming Grove on Sept. 12.
The attack set off a laborious - and expensive - search in the Pocono woods, costing several million dollars and disrupting daily routines and crippling the tourist business during the peak fall-foliage season.
Police said they found proof Frein had planned such an attack and retreat for years, adding that they found a book on sniper training in his bedroom.
Documents they filed also showed that Frein allegedly searched the Internet in 2012 and 2013 for information on police raids, cellphone tracking, and manhunt tactics.
Two weeks ago, officials said they had recovered journal pages handwritten by Frein at a campsite that they said reinforced their resolve to find him.
"I will tell you, after reading this cold-blooded and absolutely chilling account, I can only describe Eric Frein's actions as pure evil," Col. George Bivens of the state police said at the time.
| | | |
| --- | --- | --- |
| The Cultural Impact of Tim Cook's Announcement | | |
| | | |
| --- | --- | --- |
| How to Back Hillary Into a Corner | | |
How to Back Hillary Into a Corner
By MAGGIE HABERMAN and GLENN THRUSH
A report from the secret race to answer 2016's most pressing question.
Over the next couple of hours, Plouffe told Clinton and two of her closest advisers—longtime aide Cheryl Mills and John Podesta, Bill Clinton's chief of staff and now Obama's White House counselor—what she needed to do to avoid another surprise upset. His advice, according to two people with knowledge of the session, looked a lot like Obama's winning strategy in 2012: First, prioritize the use of real-time analytics, integrating data into every facet of her operation in a way Clinton's clumsy, old-school campaign had failed to do in 2008. Second, clearly define a rationale for her candidacy that goes beyond the mere facts of her celebrity and presumed electability, rooting her campaign in a larger Democratic mission of economic equality. Third, settle on one, and only one, core messaging strategy and stick with it, to avoid the tactical, news cycle-driven approach that Plouffe had exploited so skillfully against her in the 2008 primaries.
In Plouffe's view, articulated in the intervening years, Clinton had been too defensive, too reactive, too aware of her own weaknesses, too undisciplined in 2008. His team would goad her into making mistakes, knowing that run-of-the-mill campaign attacks (like Obama's claim she merely had "tea," not serious conversation, with world leaders as first lady) would get under her skin and spur a self-destructive overreaction (Clinton responded to the tea quip by falsely portraying a 1990s goodwill trip to Bosnia with the comedian Sinbad as a dangerous wartime mission). She was too easily flustered.
| | | |
| --- | --- | --- |
| Apple CEO Tim Cook comes out: 'I'm proud to be gay' | | |
Apple CEO Tim Cook comes out: 'I'm proud to be gay'
By Abby Phillip
Cook acknowledged in the essay published on Thursday that while his sexual orientation has not been a secret to many people at Apple (and has long been discussed and debated by outsiders, too), he has never before spoken publicly about the issue.
"While I have never denied my sexuality, I haven't publicly acknowledged it either, until now," Cook wrote for Bloomberg Businessweek. "So let me be clear: I'm proud to be gay, and I consider being gay among the greatest gifts God has given me."
Cook took the helm of one of the world's most successful companies after the death of its founder, Steve Jobs, in 2011.
The scrutiny that constantly follows the company inevitably centered on Cook. In profiles, Cook never explicitly addressed his sexual orientation, despite the sea change in public attitudes across the country about the issue of gay marriage. Same-sex marriage is now legal in 32 states and the District of Columbia.
| | | |
| --- | --- | --- |
| Ted Cruz draws line from Jeb Bush to Hillary Clinton | | |
Ted Cruz draws line from Jeb Bush to Hillary Clinton
By JONATHAN TOPAZ
Sen. Ted Cruz on Thursday took a thinly veiled shot at Jeb Bush, saying that Republicans will ensure a Hillary Clinton presidency if they run a more moderate candidate in 2016.
Appearing on CNBC, the Texas Republican and tea party favorite was asked about Bush and said that presidential candidates from the party's establishment wing — like Arizona Sen. John McCain in 2008 and former Massachusetts Gov. Mitt Romney in 2012 — consistently fail to turn out millions of voters.
"[I]f we run another candidate in the mold of a Bob Dole [in 1996] or a John McCain or Mitt Romney, we will end up with the same result, which is millions of people will stay home on Election Day, which is what happened for all three of them," the senator said. "And if we run another candidate like that, Hillary Clinton will be the next president." Clinton, the former secretary of state, is widely considered to be the front-runner for the Democratic nomination if she chooses to run.
| | | |
| --- | --- | --- |
| Why Hollywood Loves Christopher Nolan | | |
Why Hollywood Loves Christopher Nolan
By Ben Fritz
In an age of franchise films and hired-hand directors, few filmmakers are still treated with the deference of a Steven Spielberg or a James Cameron—except Christopher Nolan.
For a big-ticket movie, the science-fiction epic "Interstellar" is highly unusual. It cost a hefty $165 million budget to make, but is also wholly original—that is, not based on a comic book, TV show, or young-adult novel. Amid much hoopla, it opens across the country on Nov. 7, after two days of special showings in 250 theaters.
The last time a studio made a movie that cost so much and wasn't part of a "franchise" was 2010's "Inception." Like "Interstellar," it was directed by Christopher Nolan, one of the very few directors to whom Hollywood issues a virtual carte blanche—along with extreme veneration.
Mr. Nolan's ability to combine box-office success with artistic ambition has given him an extraordinary amount of clout in the industry. Studios pay him as much as they do elite stars. Warner Bros. provides him with all the benefits of a studio deal with no strings attached. They indulge his personal passions—his love for traditional celluloid over digital technology, his fondness for IMAX big screens, his penchant for extreme secrecy. And they leave him alone, letting him go away and make his movies with little interference.
| | | |
| --- | --- | --- |
| Time Is Running Out for Obama on Syria | | |
Time Is Running Out for Obama on Syria
Jamie Dettmer
The idea that U.S.-backed Syrian rebels defeat ISIS and force Assad to the negotiating table has absolutely nothing to do with what's happening on the ground.
<< Start
< Prev
1
2
3
4
5
6
7
8
9
10
Next >
End >>
Results 1 - 10 of 28538
---