| | | |
| --- | --- | --- |
| How 'Empire' Could Change TV | | |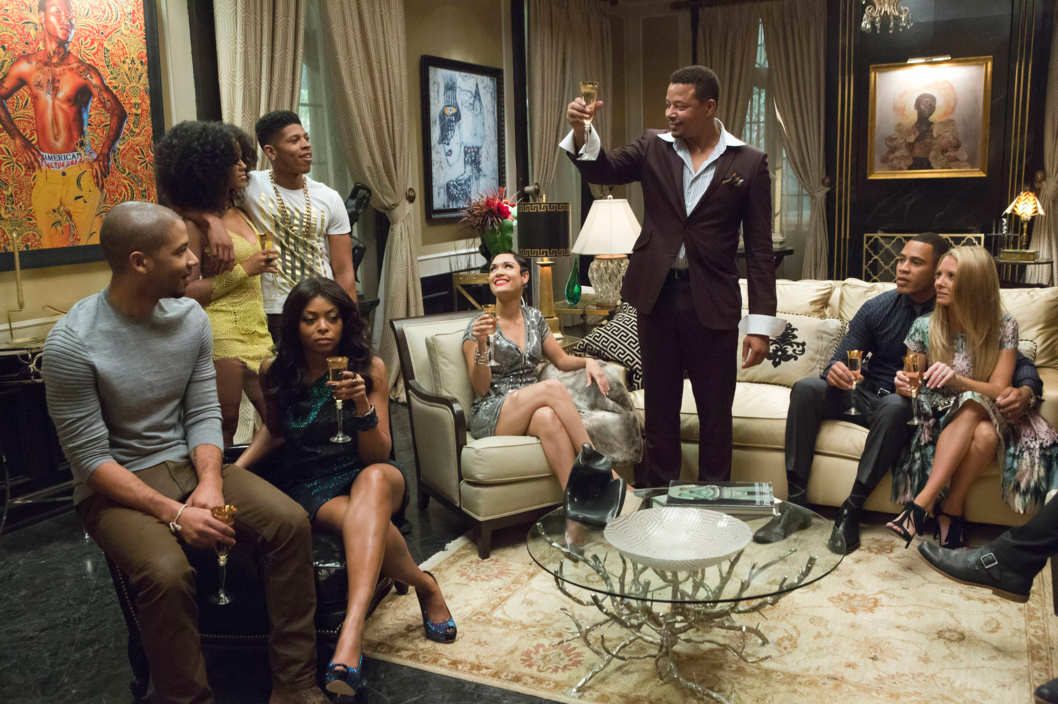 Empire Is a Massive Hit. Here's What Its Success Could Mean for the TV Business.
By Josef Adalian
The rise of Fox's Empire has been swift and stunning: Following an unexpectedly high-rated debut three weeks ago, the music-driven soap opera from Lee Daniels has managed the exceedingly rare feat of adding audience in each of its subsequent airings. It's passed ABC's How to Get Away With Murder as TV's No. 1 new show this season among viewers under 50. And while the series is reaching millions of viewers of both genders and all ethnic groups, Empire is a bona-fide phenomenon in African-American households: Nielsen reports that last week's episode was seen in a jaw-dropping 33 percent of all black homes — or five times as many as the No. 2 scripted broadcast show last week, NCIS: Los Angeles. History and gravity suggest Empire will cool down a little, perhaps as soon as tonight's installment. But even it does, it will still rank as one of the most successful series launches in the past couple years, and serve as a much-needed ego boost to a broadcast-TV industry continually being written off as extinct. The question now: Will Empire have an impact beyond its 9 p.m. Wednesday time slot — both for Fox and for the TV business in general?
What sets the show apart from successes such as Murder, Gotham, Blacklist, and Scorpion is that it began big (a 3.8 rating among adults under 50), went up in week two (to a 4.0), and then ticked up again with its third broadcast (4.4). A few lower-rated shows that started in weak time slots or didn't get much buzz early on have likely improved in the ratings early in their runs. But Fox's research department says it's been at least 20 years since any top-rated drama grew among adults under 50 in its first three weeks on the air; among all viewers, it's been ten years since Grey's Anatomy ticked up each of its first four broadcasts back in 2005.
Because so many viewers are now used to time-shifting shows once they check them out the first time, TV-industry insiders were fairly confident Empire would decline in week two. The fact that it didn't, and then grew yet again, has even rival network execs giddy. "Whatever competition this is for us, it's still good for broadcast TV," one competitor told Vulture. Fox TV Group's chief operating officer Joe Earley says he "didn't believe the early [overnight] ratings" for the show at first. "We really are focused on the L3 [DVR] numbers now," he says. So when the same-day ratings came in on Thursday, and other execs at the network were emailing him about the strong early ratings, "I kept replying, 'Let's not get ahead of ourselves,'" Earley explains. "When the lift was there in the L3, it was incredible." Bottom line: Fox's ability not only to bring viewers to a new show (as other nets have done, too), but then to keep building that audience (the way cable networks do on a regular basis), bolsters broadcasters' argument that they've not become totally irrelevant in the ever-expanding TV universe.
............................
Women are certainly helping to drive tune-in for Empire, with ratings among female audiences about two times the size of the male viewership. But that's actually not a huge gap, at least relative to many other hits. NBC's Wednesday dramas (and its hit reality show The Voice) also perform about twice as well with women versus men, while ABC's The Bachelor attracts three female viewers for every one dude. As for the ethnic makeup of Empire, the show's majority-minority cast has paid off in a big way. Last week's episode was by far the No. 1 English-language show on broadcast TV in homes with African-American and Hispanic heads of household — and by a huge margin. Among Hispanics, Empire outrated its nearest scripted broadcast rival (Fox's Backstrom) by a 2-1 margin. And in addition to making it into one out of every three black homes, as noted above, among African-American women between 35 and 49, the show is literally the equivalent of a Super Bowl. Last Wednesday's episode scored a 40.6 rating and 76 share in that group (including three days of DVR replays) — a number exceeding the rating of some NFL championship games this century.
| | | |
| --- | --- | --- |
| France's False Choice: Can liberal societies come to terms with religious illiberalism? | | |
Can liberal societies come to terms with religious illiberalism?
Shadi Hamid
The impressive and inspiring show of solidarity at France's unity march on January 11—which brought together millions of people and more than 40 world leaders—was not necessarily a sign of good things to come. "We are all one" was indeed a powerful message, but what did it really mean, underneath the noble sentiment and the liberal faith that all people are essentially good and want the same things, regardless of religion or culture? Even if the scope is limited to Western liberals, the aftermath of the assaults in Paris on Charlie Hebdo and a kosher supermarket has revealed a striking lack of consensus on a whole host of issues, including the limits of free speech, the treatment of religions versus racial groups, and the centrality of secularism to the liberal idea. Turns out, we are not all one.
French schoolteachers were reportedly dumbfounded that (some) Muslim students refused to stand up for a moment of silence after the attacks. But this is where confusion seeps into the debate. Within France, there is not a cultural divide on the attack that left 12 dead at the offices of a satirical magazine. To even suspect that a significant number of French Muslims might support the slaughter of innocents is troubling. But beyond the killings themselves, there is, in fact, a cultural divide—one that shines light on some of the most problematic aspects of how we in the West talk about Islam, values, and violence.
For instance, French Muslims are more likely than non-Muslims to view blasphemy as unacceptable. They are more likely to think that attacks on the Prophet Muhammad and the Quran should be criminalized as hate speech and incitement, much like denial of the Holocaust is. It is problematic, then, to view condemning the Paris killings and affirming the right to blaspheme as two sides of the same coin. For many Muslims, they aren't. To treat them as a package deal is not only odd—after all, opposing murder and opposing blasphemy are quite different things—but also dangerous.
Polling data offers additional insight into what European Muslims think about the role of religion in private and public life (I'll be focusing here on French and British Muslims, two of the largest Muslim populations in Europe). For starters, the baseline of religious observance varies considerably. According to the 2009 Gallup Coexist Index, 58 percent of French Muslims either "very strongly" or "extremely strongly" identify with their religion, compared with only 23 percent of the French public. The numbers for Britain are even starker: 75 percent versus 23 percent. Talk of a "clash of civilizations" is as unwise as it is imprecise, but there does appear to be a clash of values. Somewhat remarkably, 0 percent—yes, 0 percent—of British Muslims apparently believe homosexuality is morally acceptable. Among French Muslims, the proportion is much higher, at 35 percent, but that is still more than 40 percentage points lower than the 78 percent of French who say homosexuality is morally acceptable.
What about blasphemy? According to a 2006 Pew poll, 79 percent of French Muslims blamed the 2005 cartoon controversy–in which a Danish newspaper published various images of the Prophet Muhammad—on Western nations' "disrespect for the Islamic religion," while 67 percent of the general population blamed "Muslims' intolerance." Needless to say, this is a massive gap in perception.
Unlike France, Britain has had a spirited debate about the role of communal sharia courts in adjudicating family law. In a controversial 2008 address, Archbishop of Canterbury Rowan Williams argued that civil and religious law need not be mutually exclusive. In this sense, the question of sharia is not a theoretical one in the U.K., which has led to some intriguing polling results. According to a 2007 Policy Exchange survey, 28 percent of British Muslims said they would "prefer to live under sharia law." The number shoots up to 37 percent among 16- to-24-year-olds. The question's phrasing isn't wholly satisfying since many Muslims might prefer a third alternative—a dualistic mix of secular and religious law—but, in any case, 28 percent is still a rather large minority. On a number of other issues, including female veiling, polygamy, apostasy, and whether Muslim women can marry non-Muslim men, the 16-to-24 category consistently emerges as the most enamored by strict interpretations of Islamic law. Apparently, youth and tolerant, liberal attitudes do not go hand-in-hand. The implication is that people who spent their formative years in Britain are more religiously conservative than their elders, despite being immersed in the British educational system rather than, say, Pakistani or Egyptian ones.
This clash of values is on even greater display if you compare Western nations with Muslim-majority ones. The citizens of countries such as Egypt, Jordan, and Pakistan are deeply conservative, with large majorities supporting the application of Islamic law to varying degrees. And, while it may help, one doesn't need to be an Islamist to favor Islamist policies. In Egypt, a brutally anti-Islamist regime has employed "vice squads" in a national campaign against moral "perversions," including atheism and homosexuality. In Malaysia, an ostensibly secular government has repeatedly upheld bans on non-Muslims using the word "Allah." It is, in short, quite difficult to privatize religion in the broader Muslim world. Countries like Turkey and Tunisia that have tried could only muster fleeting success—at the high cost of subverting democracy for decades.
| | | |
| --- | --- | --- |
| The Dueling Legacies of Bill Belichick | | |
The Dueling Legacies of Bill Belichick
'Deflategate' Aside, the Rest of the NFL Has Always Tried (And Failed) to Emulate the Patriots Coach
By Kevin Clark
Devotees of football strategy—the ones who only read the writings of Bill Walsh and have a shrine to Paul Brown in their cellars—are bummed about what has happened to Bill Belichick in the past week.
The New England Patriots are under investigation for using underinflated footballs in the AFC Championship Game. If proven guilty, Belichick's legacy will be that of a football outlaw—one that has already been cemented in the minds of Patriot-hating fans who haven't forgotten the "Spygate" scandal of 2007.
But the reason wonks are mourning is because the "Beli-cheat" label will obscure his real legacy: bringing value investing to football.
To understand the essence of what Belichick has done in his 15 years with the Patriots, you must first look at his defense. Belichick was a pioneer, along with his former boss Bill Parcells, of the 3-4 defense. That's three defensive linemen and four linebackers. It is designed to create havoc on pass plays because with four standing linebackers it is less clear to the offense which players will blitz the quarterback and which will drop back into coverage. Belichick brought that defense to New England and for some reason, the copycat NFL had yet to discover its effectiveness. Belichick said when they installed the 3-4 in New England, there were three total teams running it. This was, he admits, awesome.
"So, if you wanted a nose tackle, there were plenty of them out there. If you wanted a 3-4 outside linebacker, there were plenty of them out there," he said last month. Nose tackles are the mammoth clogs in the middle of the defensive line that control multiple "gaps" on the field, which is key for the 3-4 to work. He was able to pull players like linebacker Mike Vrabel off the NFL scarp heap because Vrabel wasn't big enough for the 4-3, but he was perfect for the 3-4.
The good news was it worked. The bad news was that it worked so well that everyone stole it.
The Patriots won three Super Bowls in a four-year span. The draft became a nightmare for Belichick. Five years after he started in New England, he estimated, up to 18 teams were using the system. So, then: "You go to the draft board and think, 'Here's a nose tackle. Who needs a nose tackle?' Well eight teams in front of you need a nose tackle and there's two nose tackles," he said.
.................................
When NFL teams started investing in "shutdown" cornerbacks, he countered with a two-tight end system that created matchup nightmares in the middle of the field and made Rob Gronkowski a star. When dominant wide receivers became too expensive, he created an assembly line of slot wide receivers available in the bargain bin—first Wes Welker, now current slot specialist Julian Edelman.
Belichick's savvy with the salary cap has created an endless parade of failed imitations. He blends scouting with financial savvy. Instead of finding the best players and fitting them on the 53-man roster with little regard for salary implications, Belichick instead favors the best 53-man roster. He would rather have the best backup linebacker and sacrifice a little talent at the top end of the roster. He doesn't want holes anywhere on the field, so instead of plugging in a no-name on special teams who makes the league minimum, he'd rather keep special teams ace Matthew Slater and pay him more than anyone else would.
Then there is the draft. Belichick always takes the best player available to a fault. He doesn't care for league trends—he took a linebacker in the 2013 and 2012 drafts despite the fact it is considered a dying position. Most amazingly, during quarterback Tom Brady's elite tenure as starting quarterback, he's taken four quarterbacks in the first four rounds of the draft. This makes no sense, but if Belichick sees value, he acts. Current backup Jimmy Garoppolo was a second-round selection last year, impossibly high when the starter is one of the best to ever play the position and has no intention to retire. Belichick's wheeling and dealing on draft day is legendary. In the last decade, the Patriots have drafted 89 players, the most in the AFC and fifth-most in the NFL.
| | | |
| --- | --- | --- |
| Mitt Romney Is So Frugal He Might Sell His Oceanside Mansion with a Car Elevator | | |
| | | |
| --- | --- | --- |
| Pete Carroll's road to redemption | | |
Pete Carroll's road to redemption
By Adam Kilgore
On the day Pete Carroll accepted the Seattle Seahawks' offer to become their head coach, in early winter of 2009, he shared a conversation with his close friend Yogi Roth. Carroll had washed out of truncated, ineffective stints with the New York Jets and New England Patriots a decade prior. The Seattle job would be Carroll's final chance, he knew, to test himself and either succeed or fail at the sport's highest level.
Carroll's nine-year reign at Southern California had made him one of the most successful coaches in America. In the minds of most NFL officials, fairly or not, he remained a gum-chewing, fist-pumping, mantra-spouting softie, perfectly enthusiastic for college kids but not disciplined enough for professionals. In college, he was king. In the NFL, he was nicknamed "Pom-Pom Pete."
"What changes now?" Roth asked Carroll when they spoke.
"Nothing," Carroll replied, to Roth's recollection. "Nothing changes now. I'm not changing one thing other than which day of the week we play. If I'm going down, I'm going down my way."
Carroll, 63, is at the top of his profession, on the cusp of one of the greatest coaching accomplishments in NFL history. Last year, he became the third head coach ever to win both a college national championship and a Super Bowl. On Sunday, with a win over the New England Patriots, Carroll can become the seventh to win consecutive Super Bowls. The list he would join? Vince Lombardi, Don Shula, Chuck Noll, Jimmy Johnson, Mike Shanahan and Bill Belichick. No one thinks Pete Carroll is a joke anymore.
Carroll can cement himself as one of the NFL's all-time great coaches two decades after the Jets fired him after one season and 15 years after the Patriots dispatched him after three years. How did Carroll morph from an NFL flameout to perhaps its most dominant coach?
| | | |
| --- | --- | --- |
| Aboard Air Force One | | |
A look at what happens on the presidential aircraft.
| | | |
| --- | --- | --- |
| How Democrats killed Obama's college savings plan | | |
How Democrats killed Obama's college savings plan
Nancy Pelosi and Chris Van Hollen were key opponents of a tax on 529 plans.
By Rachael Bade and Allie Grasgreen
A dramatic lobbying effort on Air Force One — led by key leaders in his own party — helped prod President Barack Obama to drop a much ballyhooed plan to tax college savings in an embarrassing retreat from a plan announced just a little more than a week ago.
And now Hill Republicans want to rub his nose in it by voting to expand the tax break.
Sources told POLITICO that the president was lobbied even on his own plane by House Minority Leader Nancy Pelosi. And a key call came from House Budget Committee ranking Democrat Chris Van Hollen while Obama flew from India to Saudi Arabia. He called Pelosi, who was in the air with the president hours ago, to complain.
Pelosi insisted that Obama drop the plan, scuttling what had been quickly labeled a disastrous policy that would hurt the middle class.
| | | |
| --- | --- | --- |
| 2015 Super Bowl odds: Sportsbooks rooting for Seahawks | | |
2015 Super Bowl odds: Sportsbooks rooting for Seahawks
The Seattle Seahawks have become a slim underdog in Sunday's Super Bowl 49 matchup with the New England Patriots. We spoke with a sportsbook manager to get a better idea of what this means for business.
The Seattle Seahawks opened as a two-point favorite in Super Bowl 49, but that line quickly changed. The line swung within a day to see the New England Patriots sitting as one-point favorites. The line has since moved to as much two-points, depending on your sportsbook of choice. If the line holds, it will mark the third time Seattle has been a Super Bowl underdog.
This line change came due to some heavy money on the Patriots.
| | | |
| --- | --- | --- |
| Belichick needs Brady more than ever | | |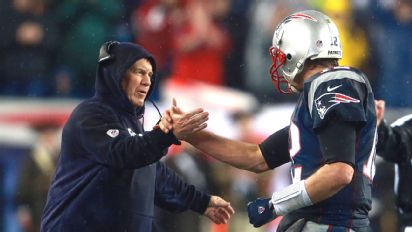 Belichick needs Brady more than ever
Belichick's success is less likely without Brady as his QB
By Skip Bayless | ESPN.com
This has been my opinion from the start about Deflategate: It has been far easier to believe Tom Brady than to believe Bill Belichick.
This has troubled me since 2007 about a coach whose sixth Super Bowl appearance (on top of nine AFC Championship Games) now elevates him into the greatest-ever conversation: Why would a coach this great ever feel the need to cheat? Wouldn't even rule-bending be beneath a man so renowned for his strategic brilliance?
Not only was Belichick busted and punished for brazenly disregarding a rule in the 2007 Spygate incident that permanently tarnished his franchise, but the St. Louis Rams, and now the Carolina Panthers, have publicly suspected the Patriots of videotaping their walk-through or practice before the Patriots beat them in Belichick's first two Super Bowl wins. The Patriots have scoffed at these accusations -- which certainly can be dismissed as paranoid sour grapes. But no NFL coach has been suspected of more nefarious rule-bending than Belichick over the years, from jamming opponents' headset signals to illegally working out players to manipulating the injury report.
No, we are not talking about anything as unforgivable as, say, point-shaving. This has mostly been about gaining even the slightest competitive advantage -- though, for a defensive mind as great as Belichick's, being able to study tape of an opponent's walk-through or practice could provide a significant edge.
But: Where there has been so much hazy smoke, has there been far more fire than Spygate? Recently, one of the greatest coaches ever, the highly respected Don Shula, referred to Belichick as "Beli-cheat."
Wow: That reference reverberated.
I was similarly impacted by the national reaction to Belichick's two press conferences last week (Thursday morning and the second one on Saturday) compared to Brady's on Thursday afternoon. Never in his coaching career has the usually tight-lipped and condescending Belichick been more expansive and expressive in front of the media -- and never has Brady looked and sounded more uncomfortable.
| | | |
| --- | --- | --- |
| How Jeb Bush's wife could help win him the White House - or NOT! | | |
How Jeb Bush's wife could help win him the White House
By Jonathan Easley
Jeb Bush's secret weapon in his potential White House bid is his wife of 40 years, Columba Bush, supporters of the former Florida governor say.
Columba, who would be the nation's first Hispanic first lady if her husband wins the presidency, largely eschewed the public spotlight in Florida and is known for having a shy public demeanor.
Before Bush (R) announced in December that he was exploring a bid for the White House, it was thought that Columba could even put the brakes on his national candidacy.
Yet friends of the Bush family, and those who have worked closely with Jeb and Columba for decades, say that beneath her private persona lies a rock-solid interior. They argue she's fully prepared to step into the pressure cooker that awaits if Jeb runs for president in 2016.
"Just because she's reticent to engage publicly doesn't mean she's not ready for it," said Brett Doster, a political
adviser to Jeb's first campaign for governor in 1993. "She's strong as iron. If [Jeb] decides to run, she'll be a great partner on the trail. I think that anybody who would presume she's not ready for some of these tough tasks is severely underestimating her."
The Hill interviewed more than a half-dozen people who have known the Bush family for decades, giving new insight into what kind of role Columba might play on the campaign trail if Jeb runs for president and what kind of first lady she'd be should he win.
Those who know the family remain fiercely loyal to Columba, speaking about her in reverent tones.
They talk about the "deep and personal connection" she and Jeb have, saying that she's a "true matriarch," having "an incredible capacity to love," being "engaging and warm" when she works a room of lawmakers or activists, describing her as a "second mom" to staffers on the campaign trail, being eager to find out about the personal, rather than professional, lives of those who come into the Bush family orbit.
The word "underestimated" came up in a handful of conversations. When asked about her perceived shyness, her defenders say that aspect of her personality has been overplayed and misunderstood — she's "thoughtful," a "tremendous listener," "humble," "genuinely interactive" and a "servant leader," rather than the kind who stands at the front of a rally.
<< Start
< Prev
1
2
3
4
5
6
7
8
9
10
Next >
End >>
Results 1 - 10 of 30013
---